Surprisingly enough, after the first few cards implied a slow, grindy format, I was able to build an aggro deck in my first online foray into Sealed, a friendly three-stage league. I will use the week two build to talk a bit about what seems to be the aggro horror color combination of the set; week one was a much weaker, different deck, and I haven't built week three yet. I realize the set is new, so here's a card list (sadly unordered) for reference.
First, the build: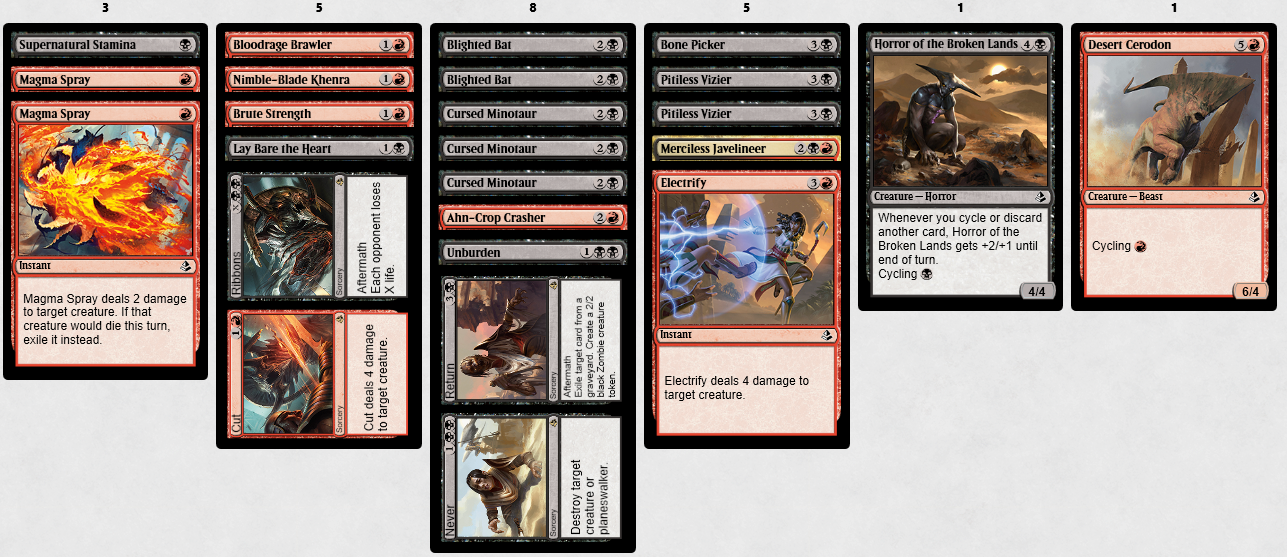 The mana base: 8
Mountain
, 8
Swamp
, and a
Grasping Dunes
.
The plan is obvious: drop early beaters, get blockers out of the way, keep them on the back foot, scrambling to keep up. Finish the game before big scary things come to play on the other side of the table. This plan is helped in a big way by the abundant, great removal I was lucky enough to open: two
Magma Spray
for smallish things and embalmers,
Cut // Ribbons
and
Electrify
for the middle game, and
Never // Return
for just about anything.
Lay Bare the Heart
is another great disruption spell, and I even played
Unburden
a few times.
Ahn-Crop Crasher
's exert once delivered 10 damage and finished another few games,
Bone Picker
always comes down for
,
Merciless Javeliner
is great at delivering the last few points of damage. Of course, there's always
Ribbons
.
For another look at the same build,let's see what I'm not playing: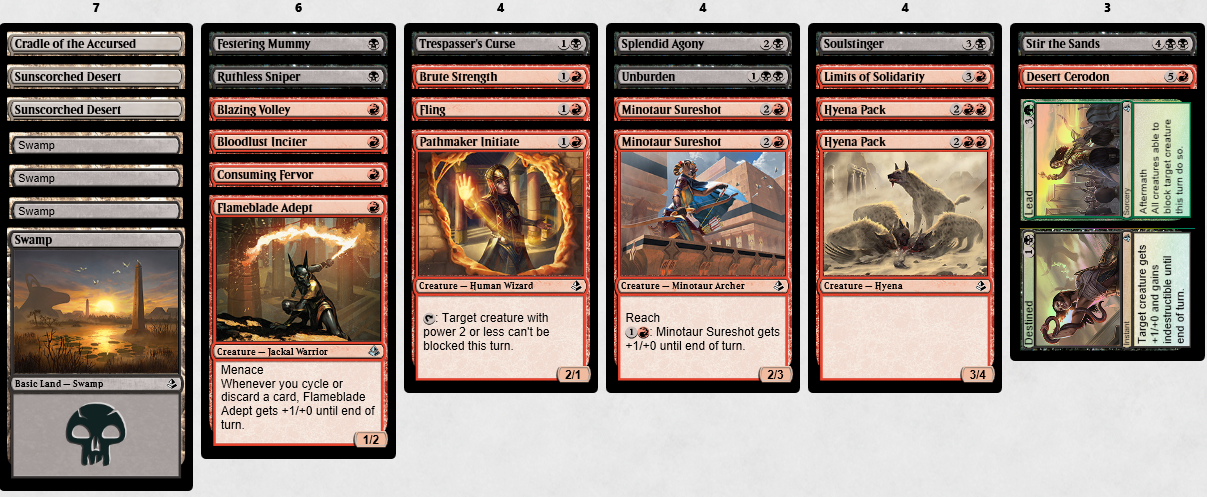 Splendid Agony
and
Limits of Solidarity
are week three additions which will probably go in over
Unburden
and
Desert Cerodon
.
Consuming Fervor
is interesting, but it's a bit too all-in for my taste. Sure, if I meet a deck with excellent long game, I will probably lower my curve and include it, but I prefer it in the board.
Ruthless Sniper
and
Soulstinger
are powerful cards that don't feet the deck. I have barely any cycling, and Stinger is a defensive card.
Stir the Sands
is a card I'm not sure about, but for now I played the Cerodon, since it cycles for one. I did board in
Festering Mummy
against a deck full of early drops, and
Fling
against a deck full of removal.
Fling
is very tempting as a main-deck card, but what do I cut for it? Mostly it would deliver three point of damage, but I have no graveyard interaction to get things back.
Result: 3-0, 6-0.
Sample game:
I lose the die roll, mulligan a six-lander into a four-lander with
Brute Strength
and
Pitiless Vizier
, bottom a land from the top. Just about the worst hand you can imagine, but I will topdeck like a champion
Island
go, draw
Bloodrage Brawler
,
Mountain
go, they cycle
River Serpent
eot.
Plains
Gust Walker
; draw
Cursed Minotaur
,
Swamp
Bloodrage Brawler
discarding a land. Walker exerts to hit me for three, they play
Those who Serve
. Draw
Bone Picker
, hit for four, cast Minotaur. They play a
Swamp
, no attacks (Minotaur power!), play
Curator of Mysteries
. I draw another
Cursed Minotaur
, attack with both my creatures, they double-block the cursed one, and
Brute Strength
takes out the Curator, lets me play
Bone Picker
for a single mana. Which is all I have left, since I missed the land drop. They untap, play land no.5, hit me to thirteen with Walker and the Zombie (no exert), play
Unwavering Initiate
. I top-deck
Ahn-Crop Crasher
, play and exert it, they take ten down to two. They play another blocker, keep two cards in hand and three mana open, and pass to me.
Bone Picker
is lethal, since they have no flyers out, but I can't attack on the ground and I'm vary of a trick, like
Galestrike
or
Impeccable Timing
. So I play my last top deck,
Unburden
, and they concede to not show me their trick.
Other games were a bit less interesting, with opponents not having that good a draw, or me drawing
Cut // Ribbons
. That card is fantastic.
And how do you link an aftermath card?
Edit: Found it in other posts, thanks Yarium and Zenbitz.