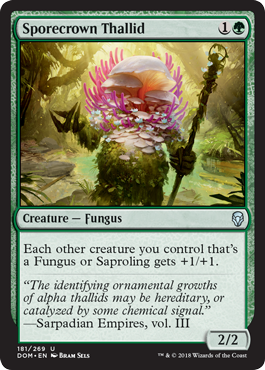 Sporecrown Thallid
|
Creature - Fungus
(U)
Each other creature you control that's a Fungus or Saproling gets +1/+1.
"The identifying ornamental growths of alpha thallids may be hereditary, or catalyzed by some chemical signal."
-Sarpadian Empires, Vol. III
2/2
Aww, it's adorable. Also, this,
Tendershoot Dryad
, and
Verdant Force
make me want to build some sort of Saproling deck I can lose with at FNM.