Ok after some heavy testing and reading some articles on the archetype this are my thoughts on the Temur Reclamation Pile:
This deck is a house... its very solid against the field, sure its can stumble against RDW and WW on G1 but probably G2 on the play can be devastating... G3 is slightly favored for the RDW but not so much for WW.
Sultai is not that problematic... Syncopate is huge here and after SB you can add a couple Essence scatter for consistency...
Monoblue can be favored on G1 but after SB you ara packing 8 cheap removals + 3 cannonades...
Esper is the most fun matchup... favored for us on G1 but do not remove your removal for G2 coz Thief of sanity will show up, here Dire Fleet Daredevil is amazing and can give a lot of advantage in the cheapest way.
Cards that did not make the cut
Ionize... its easier to cast but Surveil is just better... Surveil 1 in a control deck is just too good to pass
Growth spiral, sure a T3 Reclamation or T5 Niv is huge... but IMO this is a trap... same as Opt... if you are playing the combo approach then yes those cards are better but.. on a control shell you want answers or you are getting run over.
Quench, solid on the early game... even better than syncopate... but after that is a dead card... and we do want to get to the late game.. so axe!
---
The deck
3 Niv-Mizzet, Parun / 3 is the right number Niv is the frigging boss and he is probably what makes this deck so fun to play, T6 Niv with Reclamation on board is just so good.
1 Ral, Izzet Viceroy/ one copy gives the deck edge against resolved fatties, also Ral is the fastest PW with a relevant ultimate, I love this guy and he has persistently showed me that he deserves a spot on standard.
Burn package
2 Shivan Fire, solid on the early game, versatile on the late game.
2 Lava Coil, solid Vs Monoblue and Drakes...
3 Fiery Cannonade, panic button against fast aggro piles, cast it for 5 with Exp and its a proper sweeper...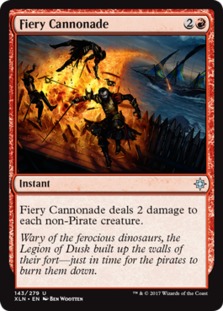 1 Spell Pierce, just the one for counter wars and T2 erasure or Azcanta
4 Syncopate, perfect match for this deck... amazing on your opener quite solid on the late game when you are sitting on a **** load of mana... amazing vs Kraxis and Nexus.
4 Sinister Sabotage, the best counter on standard ATM
4 Wilderness Reclamation, best card in standard period //
Remember to set end step pauses before spending your mana.
4 Chemister's Insight, I love this draw spell and works amazingly with Reclamation, burning excess lands with jump start is a sort of flooding insurance
4 Expansion // Explosion, BFF of the best card in standard, on a control shell you should be using this to clear the board early, and one shot killing them late, remember that Niv doubles + 1 the damage so 21 damage can be done with just 14 mana! / 7 lands
One of the best things you can do with this deck is to Kill a threat on your end step, draw a **** load of cards and hold 3 mana for counter magic...
MANUALLY TAP YOUR MANA FOR THIS!
2 Search for Azcanta, the next best thing to do with Reclamation... search for your answers!
2 Breeding Pool
4 Hinterland Harbor
2 Island
2 Mountain
4 Rootbound Crag
4 Steam Vents
4 Stomping Ground
4 Sulfur Falls
--
3 Negate, for controlish match ups
2 Shivan Fire, complete the play set against aggro and mono blue
3 Essence Scatter, against gates, Sultai and any deck that relies on big creatures to win the game
1 Search for Azcanta, against control
2 Dire Fleet Daredevil, against black based control... particularly Esper and RDW... add a relevant blocker and burn something.
2 Lava Coil, complete the play set vs aggro
2 Biogenic Ooze, surprise surprise... this has been a fun one against mid-range and some control match ups on the play.
Vs mono blue:
Remove
-1 Ral
-2 Azcanta
-2 Sabotage
-2 syncopate
Add
+2 Shivan Fire
+2 Lava Coil
+3 Essence Scatter
Vs RDW / WW
-1 Ral
-2 Azcanta
-2 Sabotage
-2 syncopate
-1 Spell pierce
Add
+2 Shivan Fire
+2 Lava Coil
+2 Essence Scatter
+2 Dire Fleet Daredevil / Ooze vs WW
Vs Esper
Remove
-2 Lava Coil
-3 Fiery cannonade
-3 Syncopate
Add
+2 Shivan fire
+1 Azcanta
+2 Dire Fleet
+3 Negate
Vs Nexus
Remove
-2 Shivan
-2 Lava
-3 Cannonade
Add
+3 negate
+1 Azcanta
+ 2 Ooze
+1 Essence scatter
Vs Gates
Remove
-2 Shivan Fire
-2 Lava Coil
-3 Cannonades
-2 Syncopate
Add
+3 Essence Scatter
+3 Negates
+2 Ooze
+1 Azcanta
Sultai
Remove
-2 azcanta
-2 Sabotage
-3 cannonades
-1 Syncopate
Add
+2 Shivan fire
+2 Lava Coil
+2 Essence Scatter
+2 Biogenic Ooze